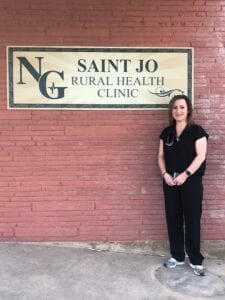 Nocona General Hospital & Rural Health Clinics is pleased to announce that Erica Patton, Board Certified Family Nurse Practitioner, is now seeing patients in both Saint Jo and Nocona. Erica has been with the Nocona Medical Clinic in Bowie and Nocona for nine years, but has welcomed the opportunity to now see patients in the NGH RHC – Saint Jo Clinic. The Saint Jo clinic located on the east side of the square at 108 E. Boggess is currently open on Tuesday and Thursday mornings from 8:30 until 11:30. Erica also sees patients in the Nocona clinic.
Erica Davis Patton was born and raised in Nocona and has lived there with her husband, Shawn, for fifteen years. They have three children: Ayden (13), Corbyn (11), and Dani (8). Erica attended Midwestern State University in Wichita Falls, where she completed her Bachelor of Science in Nursing in 2002. Following the completion of her degree, she worked at JPS Health Network for eight years as an RN in their Emergency Department while she completed her Master of Science in Nursing, Family Practitioner, at the University of Texas in Arlington in 2009. After that, she worked at Wise County Medical Center in Decatur before returning home to Nocona. Erica is a member of the Texas Nurses Association, American Nurses Association, Sigma Theta Tau International Honor Society, and the American Academy of Nurse Practitioners.
Erica enjoys treating patients of all ages – from babies to those in their "golden years"! But she especially enjoys caring for entire families. She provides all family medical care – not just for the common cold – but for a wide-range of general medical conditions such as well-woman exams, well-baby exams, diabetic management, wellness physicals, preventative screenings, etc.
All three NGH Rural Health Clinics are open to serve, and all providers are available to all patients at any time!
Nocona Rural Health Clinic                 940.825.3333
Len Dingler, MD
Chance Dingler, MD
Kelly Roden, MD
Charles Culpepper, PA
Erica Patton, FNP-BC
Bowie Rural Health Clinic                   940.872.3333
Chance Dingler, MD
Kelly Roden, MD
Charles Culpepper, PA
Nancy Merrett, FNP-C
Saint Jo Rural Health Clinic                 940.995.2410
Erica Patton, FNP-BC