Nocona   
90 Park Road
Nocona, TX 76255
(940) 825-3333
Fax: (940) 825-3052
Monday – Friday:  8am – 5pm
Saturday: 8am – 12pm
Bowie
504 N. Mason
Bowie, TX 76230
(940) 872-3333
Fax: (940) 872-2550
Monday – Friday: 8am – 4pm
Saint Jo
108 E. Boggess
Saint Jo, TX 76265
(940) 995-2410
Fax: (940) 995-7139
Tuesdays & Thursdays, 8:30 am – 11:30 am
Director of Hospital & Clinic Operations, Kelly Cope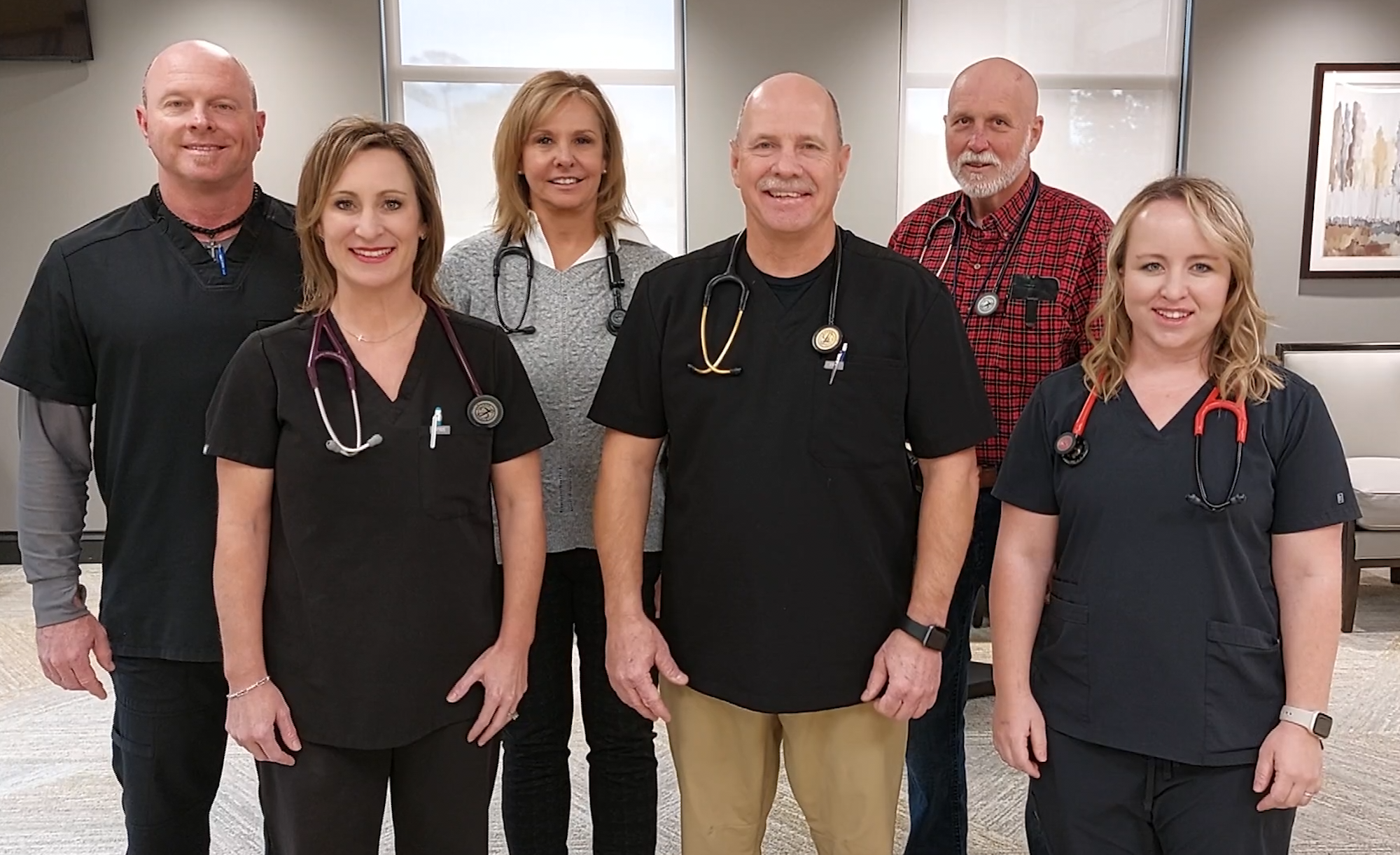 Meet our providers! (L to R) Chance Dingler, MD; Erica Patton, FNP-BC; Nancy Merrett, FNP-C; Len Dingler, MD; Charles Culpepper, PA; Kelly Roden, MD
These highly-trained providers are here to treat you not only in our clinics, but you will also see them in our Emergency Room and Hospital!
Providers
Len Dingler, MD (Nocona Clinic)
Chance Dingler, MD (Nocona & Bowie Clinics)
Kelly Roden, MD (Nocona & Bowie Clinics)
Charles Culpepper, PA (Nocona & Bowie Clinics)
Nancy Merrett, FNP-C (Bowie Clinic)
Erica Patton, FNP-BC (Nocona, Bowie & Saint Jo Clinics)
Services Offered
Primary Care
Family Medicine
Sports Physicals
Family Planning
Flu/Pneumonia/Shingles Vaccines
Wellness Exams
Most services are covered by insurance plans including:
Medicare
Medicaid
Private insurance
Visiting Specialists
One day each month, the following specialists see patients in Nocona. Appointments can be scheduled by referral from a Nocona provider or by calling the specialist directly.
Michael W. Toulan, MD (Urology)  –  (940) 689-8765
Fardin Djafari, MD (Cardiology)  –  (940) 687-4700
Andre Desire, MD (Cardiology)  –  (940) 687-5000