Nocona General Radiology Department provides high quality diagnostic images that aid in the accurate diagnosis and subsequent treatment of our patients. Providing the highest quality medical imaging, along with patient comfort is our priority. We are dedicated to making you feel at ease and providing your physician with quick, accurate, and dependable reports.
The technologists have graduated from an accredited radiology program. They have received the American Registry of Radiologic Technologists (ARRT) certification and licensed with the Texas Board of Medical Radiologic Technology.
 Director, Gaytha Thompson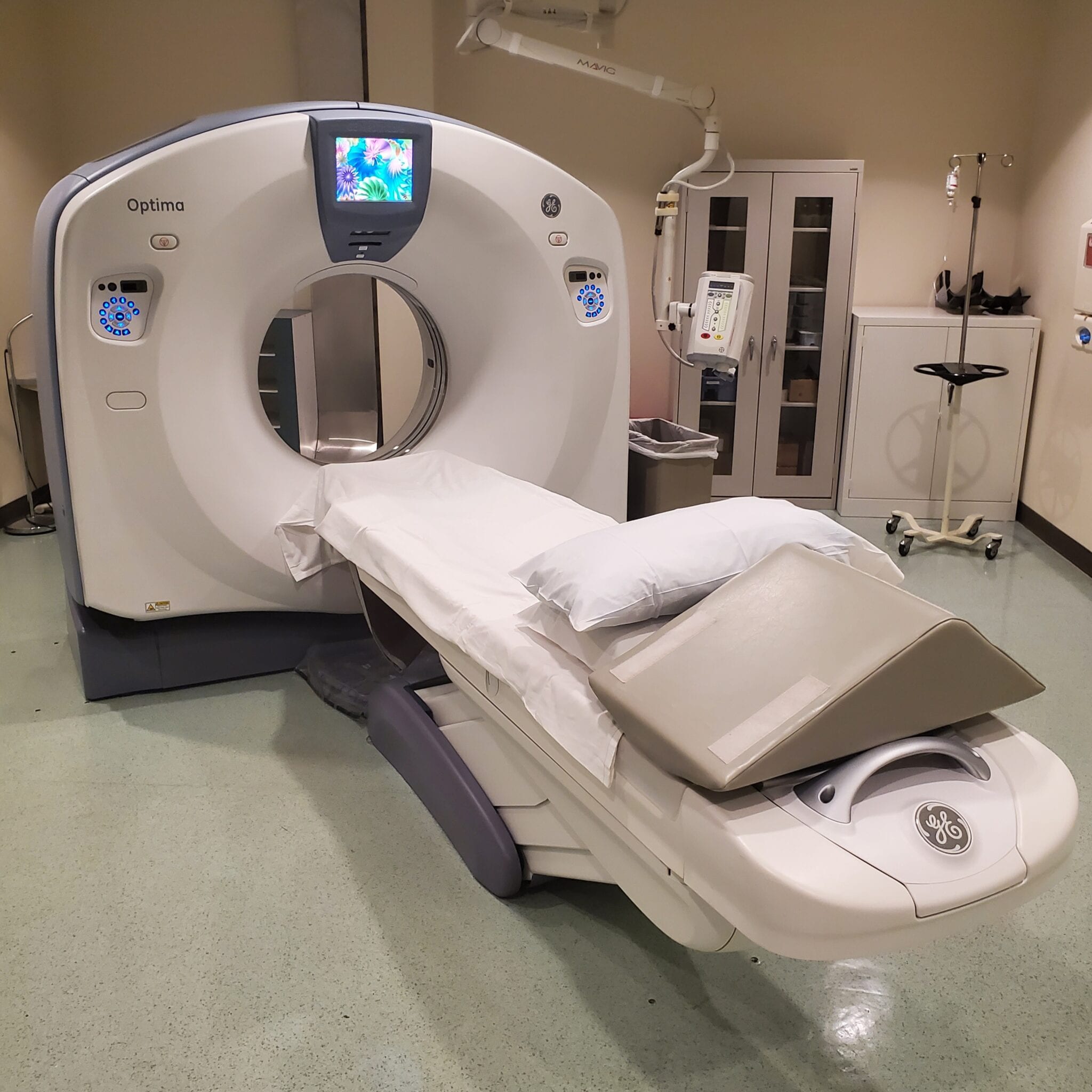 Diagnostic Radiography
Routine X-Rays
IVP (intravenous pyelogram)
Computed Tomography ( CT )
Computed Tomography Angiography ( CTA )
Ultrasound/Sonography—general
Vascular Ultrasound/Sonography
Echocardiography
Services: Explained
Diagnostic Radiography
Our Radiology Department is completely digital with the technology of a Shimadzu RadSpeed room and a portable Shimadzu Dart Evolution x-ray unit that provides superior quality images with a full range of diagnostic capabilities.  Shimadzu DR (Digital Radiography) features sophisticated synchronization functions that enable exams to be performed more quickly for the patients, more efficiently for the technologists, and most importantly, to offer lower radiation exposures to the patients.
Computed Tomography (CT Scans) with & without contrast
Computed Tomography Angiography (CTA Scans)
Our department offers the advanced scanning technology of a G.E. Optima 64-slice CT scanner that rapidly provides detailed, high resolution images. It is equipped with reconstruction technology software that allows for lower patient dose while maintaining optimal quality images with faster scan times.
Ultrasound-Diagnostic and Vascular
Our G.E. Logic ultrasound system provides fast, comfortable exams and produces highly detailed images for clinical accuracy. Revolutionary three and four-dimensional ultrasound capabilities allow us to image internal anatomy moving at real-time speed.
SonoArt vascular ultrasound service allows us offer high quality diagnostic images of the arteries and veins to our patients conveniently in our department.
Echocardiography (Echo)—Ultrasound of the Heart
United Regional Health Care System enables us to offer mobile echocardiography service here in our own community, providing our patients with a convenient alternative to traveling out of town for procedures.
Interpretation or Radiologist Report Process
A radiologist interprets all diagnostic images produced at Nocona General Hospital. The radiologist creates detailed reports for each completed radiographic examination. The electronically signed final report is archived in the hospital's electronic medical record and a copy is sent to the ordering physician.
Have Questions? Contact us!
100 Park Road
Nocona, TX  76255
Radiology Phone  (940) 825-2002
Radiology Fax  (940) 825-5416
Available 24 hours 7 days a week for inpatient and emergency services and Monday-Friday 7:00 a.m. to 5:00 p.m. for outpatient procedures.
Please contact our department at (940) 825-2002 if you have any questions regarding radiology services.